I'll walk you through the full installation and setup process in the 5-minute video below.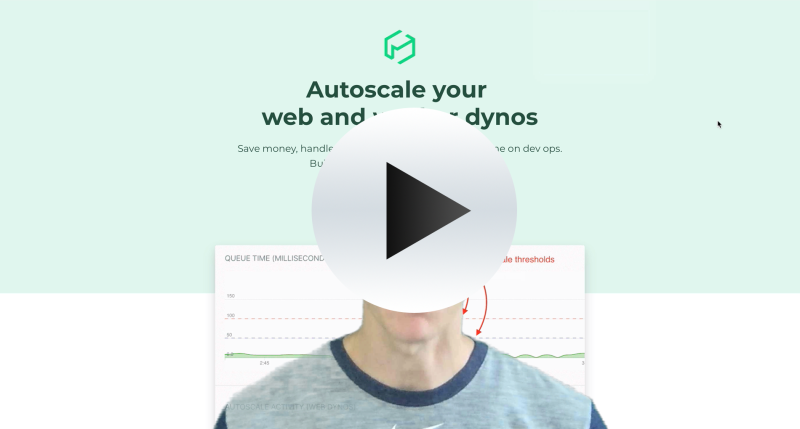 Installing Rails Autoscale on your Heroku app is a two-step process:
Install the add-on.
Install the rails_autoscale_agent gem.
If you're comfortable with the Heroku CLI, the easiest way to install is with the following command:
heroku addons:create rails-autoscale

If you prefer the Heroku web interface, you can also install Rails Autoscale from there:
Once installed, launch Rails Autoscale via heroku addons:open rails-autoscale or by clicking Rails Autoscale in your add-on list.
Note that this is the only way to sign into the Rails Autoscale dashboard. If you bookmark the dashboard, you may need to occasionally re-authenticate via the CLI or your Heroku add-on list.
When you launch Rails Autoscale for the first time, the onboarding guide will prompt you to install the rails_autoscale_agent. This gem is how request queue times and background worker metrics are reported to Rails Autoscale.
To install, add gem 'rails_autoscale_agent' to your Gemfile, and run bundle install.
Once you've deployed this change, Rails Autoscale will begin collecting metrics for your app. Click "Verify" in the onboarding guide, and you'll see a confirmation that your app is connected to Rails Autoscale. If the verification fails (sometimes it takes a few minutes), check the troubleshooting guide.
At this point there won't be much to see in your Rails Autoscale dashboard since it hasn't had much time to collect metrics from your app. Go ahead and enable autoscaling, and keep an eye on your dashboard to see how your app responds to fluctuations in request queue time.
Many apps were great with the defaults, but sometimes customization is needed. The settings page is where you can tweak autoscaling behavior as needed.